I haven't blogged much in the last month because I've been busy. I've got a day job, and I'm a parent, and I've also been working on a new site: Creative Commons Car Pictures.  What you see on the surface of "Car Pictures" might be familiar,  but what's under the surface is something you've probably never seen before: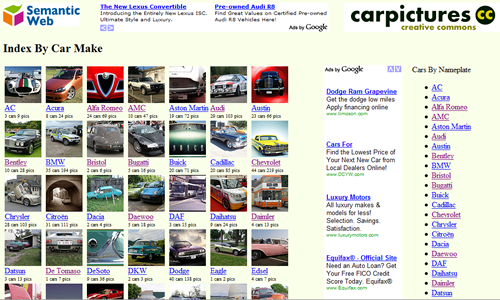 A collection of car pictures under a Creative Commons license,  it was built from a taxonomy that was constructed from Dbpedia and Freebase.  My editor and I then used a scalable process to clean up the taxonomy,  find matching images and enrich image metadata.  As you can imagine,  this is a process that can be applied to other problem domains:  we've tested some of the methodology on our site Animal Photos! but this is the first site designed from start to finish based on the new technology.
Car Pictures was made possible by data sets available on the semantic web,  and it's soon about to export data via the semantic web.  We're currently talking with people about exporting our content in a machine-readable linked data format — in our future plans,  this will enable a form of semantic search that will revolutionize multimedia search:  rather than searching for inprecise keywords,  it will become possible to look up pictures,  video and documents about named entities found in systems such as Freebase,  Wikipedia,  WordNet,  Cyc and OpenCalais.
In the next few days we're going to watch carefully how Car Pictures interacts with users and with web crawlers.  Then we'll be adding content,  community features,  and a linked data interface.   In the meantime,  we're planning to build something at least a hundred times bigger.
Quite literally, thousands of people have contributed to Car Pictures,  but I'd like to particularly thank Dan Brickley,  who's been helpful in the process of interpreting Dbpedia with his ARC2 RDF tools,  and Kingsley Idehen,  who's really helped me sharpen my vision of what the semantic web can be.
Anyway,  I'd love any feedback that you can give me about Car Pictures and any help I can get in spreading the word about it.  If you're interested in making  similar site about some other subject,  please contact me:  it's quite possible that we can help.